changing the world one t-shirt at a time
1.

EVERY MONTH A CAUSE

Every month represents one cause which inspires charities we support.

2.

EVERY CAUSE A T-SHIRT

A cause-inspired custom designed tee is delivered to your doorstep every month.

3.

EVERY T-SHIRT A DONATION

All of the proceeds from each t-shirt

is donated to charities.
STARSOUL LAUNCHED WITH ONE MISSION: TO HELP OTHERS WITH THEIR MISSION
Starsoul is the first monthly t-shirt subscription that was created during
the pandemic, which supports one cause every month and donates all proceeds to
supporting charities in meaningful impactful ways. We were founded by a
wife-and-husband team, inspired by their newborn son, wanting positive change.
Our goal is to support world changers making a difference for others.
We launched during the pandemic, on Human Rights Day 2021, with a desire for
positive action. T-shirts are the vehicle for raising funds and awareness,
giving a voice to worldwide human causes every month. Our goal is to provide a
platform supporting the world changers that are finding cures, cleaning our
Earth, helping our veterans, saving our animals, fighting for human rights and
more.
MORE ABOUT US
"I lost my Dad to a sudden heart attack, my husband is a U.S. Marine Corps Veteran, I've lost loved ones to cancer, and adopted pets my entire life. I'm Brazilian-French-American (aka) an International citizen, human rights matter to me. I can't choose one cause over another yet want to help so many. We wanted to create something to inspire and encourage compassion, and supports universal causes, because the one thing we all have in common is being human."
-Sandra Jacquemin, co-founder
Animal Rights month

This tee helped adopt a rescue elephant named Minnie at The Elephant Sanctuary, the largest in the country. It is closed to the public, but you can watch them roam freely on their exclusive EleCam.

Poverty month

This tee helped stock over 2,000 pounds of food for community fridges locally, by partnering with Buddy System MIA with the help of Be The Change, we remain committed to supporting their mission.

Education month

These tees supported kids in extreme harsh poverty entering the school year. Through partnerships with Reebok and Simple Modern, they each received new shoes, backpacks, and premium school supplies. See one of the schools we helped through Christina's Academy here.
starsoul kids
The brightest twinkle is not in the sky but in the eye of a child. We are pleased to now offer starsoul kids, a dedicated subscription for kids with a collection of their own charity tees that make an impact every month and inspire a young generation.
starsoul kids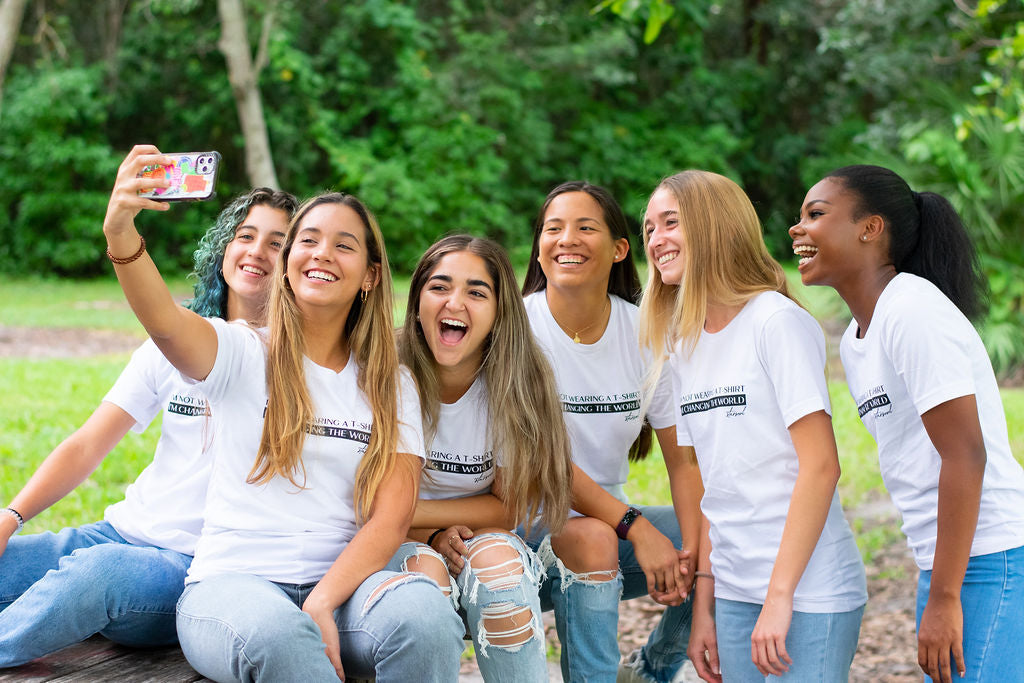 together we can
"As a former U.S. Marine nothing resonates more to me than being of service to others. I served this country in the highest capacity.. Through starsoul, I am able to continue that work, foster positive change and inspire others to take action for a better world."
-Julio, co-founder
our mission & impact
what causes does starsoul support?
According to the National Center for Charitable Statistics there are over 1.5 million charities in the United States. Our charities are carefully vetted and chosen based on rankings and recommendations.
EVERY MONTH A CAUSE • EVERY CAUSE A T-SHIRT • EVERY T-SHIRT A DONATION
human rights • infant loss • veterans • clean water • animals/animal rescue • art + music programs • autism • equality • anti-bullying • child hunger • child trafficking • disaster relief • education • environment • young entrepreneurs • gender equality • homeless • diaper banks • cancer • racial equality • special needs • poverty • women's rights • senior citizens and more.